Gourmet mit Magie
The World Champion of Magic begs you to the dinner table!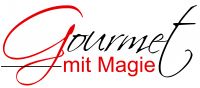 From cooking to magic - a magical evening at the highest level. You can experience that with "Gourmet mit Magie"! With an exciting puzzle the evening starts. The guests can immediately forget their everyday life and immerse into the magical atmosphere.

Then the guests are enchanted by the well prepared meal, before they savor the first part of the show in a relaxed theater atmosphere. The guests are very close to the magician and experience a show that is magical, funny and entertaining.

The second and third part of the show are surrounded by tasty treats from the kitchen. (Of course the different courses are prepared by a professional chef, and not the magician!)

Why not come and enjoy an unforgettable evening, I will be delighted to see you there. When the next exclusive evening takes place, you can find out here!
More information can be found in the "Gourmet mit Magie" Flyer in the library!
Current Event-Partners
Schönbuch Hotel (Pliezhausen)

all shows
All available Concepts four your event!
Company Concepts


Hotel- and Restaurant-Concepts


Private Concepts